5 Industries that use Polycarbonate Electrical Outlet Enclosures
Polycarbonate electrical outlet enclosures benefit many industries because of the mechanical and physical properties of the material. Polycarbonate is a lightweight plastic that has excelled as a better choice over metal, electrical enclosures and conduit.
Polycarbonate plastic is a high-performing material, specifically designed to balance weight, density, electrical and heat resistance, and dimensional stability – meaning this material is lightweight, durable, and less likely to warp or shrink when subject to extremes in humidity, water, or temperature.
1. Industrial Construction and Home Renovations
For new construction or when replacing outdated metal enclosures during home renovations, polycarbonate electrical enclosures and PVC conduit have become a preferred choice of material for contractors and electricians. First, they are easy to install, requiring fewer tools and less work for field modification. Using polycarbonate for a new construction project will save you money because these enclosures cost much less than metal junction enclosures.
And, because these enclosures are non-metallic, they don't need a grounded connection to the box itself. This is not only a safety improvement but also a time- and cost-saver.
2. Solar Power Industry
Solar power applications demand a durable electrical enclosure solution that can withstand temperature extremes and exposure to long hours of UV radiation. Direct sunlight can accelerate the deterioration of metal components, especially those that are also exposed to blowing rain, dust, and dirt.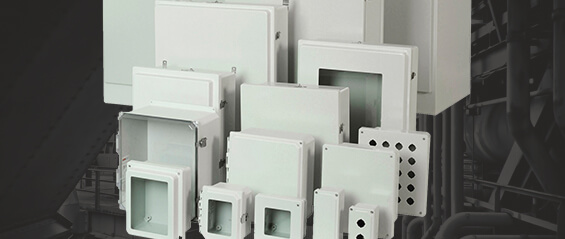 Polycarbonate electrical junction enclosures are a lightweight alternative to metal enclosures for the solar power industry. Also, expect these enclosures to withstand discoloration due to sunlight – making them the perfect choice for residential and commercial solar power installations.
3. Car Washes and Self-Serve Bays
You will find car washes using polycarbonate electrical enclosures at many points in the car wash process to house the electrical wires and switches that connect the motorized tracks, water pumps, and air blowers. These enclosuresmust withstand the possibility of being exposed to hose-directed or pressurized water flows.
NEMA 4X polycarbonate electrical enclosures are a durable solution for this outdoor environment that is waterproof and weatherproof.
4. Water Parks and Marinas
General contractors prefer NEMA 6P polycarbonate enclosures that are waterproof for areas that have frequent exposure to dampness, moisture, or flooding. These NEMA-rated electrical enclosures are submersible under water and will keep electrical equipment dry in the most demanding of wet locations.
Polycarbonate enclosures can be constructed to withstand water infiltration, but the material itself is able to handle saltwater without deterioration or failure. If you're constructing a boat dock that will feature lighting and power receptacles, then you should consider polycarbonate electrical enclosures.
5. Wastewater and Water Treatment Plants
Not only are these environments wet, they will often have the flow and storage of corrosive liquids or extremely strong, industrial chemicals within these facilities. The bottom line is when wastewater plants can protect their pipes and electrical enclosures from these highly corrosive elements, they operate at a higher level and with less downtime.
Polycarbonate electrical enclosures are a cost-effective solution in a very demanding environment where metal has proven to be unreliable. Choose polycarbonate which is highly resistant to chemicals, microorganisms, and UV light.
For all your polycarbonate electrical enclosures, junction enclosures, and electrical enclosure needs, visit us at Allied Moulded Products, a trusted source for the electrical industry.
Source
https://www.alliedmoulded.com/
https://www.alliedmoulded.com/new-product-release-polyline-amp443-series-expansion/